Course Catalog

(1205) Infectious Disease Awareness - Online - 2-hours - On-Line Lowell , MA
12/02/2020 - 12/02/2020
(1205) Infectious Disease Awareness - Online
(1205) Infectious Disease Awareness - Online - 2-hours - On-Line Lowell , MA
12/10/2020 - 12/10/2020
(1205) Infectious Disease Awareness - Online
(1205) Infectious Disease Awareness - Online - 2-hours - On-Line Lowell , MA
12/17/2020 - 12/17/2020
(1205) Infectious Disease Awareness - Online
ONLINE TRAINING - 8-Hour Hazardous-Waste Site Worker & Emergency Responder Hybrid Refresher
This course meets the requirements outlined in OSHA 29 CFR 1910.120 for 8 (eight) hours of annual refresher training for workers at hazardous waste sites and emergency responders. This course is designed for general site workers and emergency responders who remove hazardous waste and / or respond to hazardous material emergencies and who may be exposed or potentially exposed to hazardous substances or health hazards.
The TNEC HazWoper Refresher Course is offered in two parts; The first part is a four hour live on line course and the second part is a student self -directed ( asynchronous ) 4 hour on line computer program. The four hour on line program consists of 8 – half hour modules that the student can take at the own pace and at times that are convenient for their schedule. The modules are available on the TNEC Learning Management System (LMS) and are available after the students have completed the live component.


The TNEC refresher curriculum is reviewed and modified each year to reflect new information and modules. The typical curriculum includes Reviews of: Incidents and near misses from the past year, the HAZWOPER Standard, use of the NIOSH Pocket Guide & Safety Data Sheets (SDS), air monitoring, respiratory protection, personal protective equipment, decontamination procedures, spill control and a HAZWOPER topic review game.
The Refresher Course includes a table-top group activity that challenges the students to use all the information that have gained in the course to solve a hazardous waste site and emergency scenario.
ONLINE TRAINING - COVID (English) Infectious Disease Awareness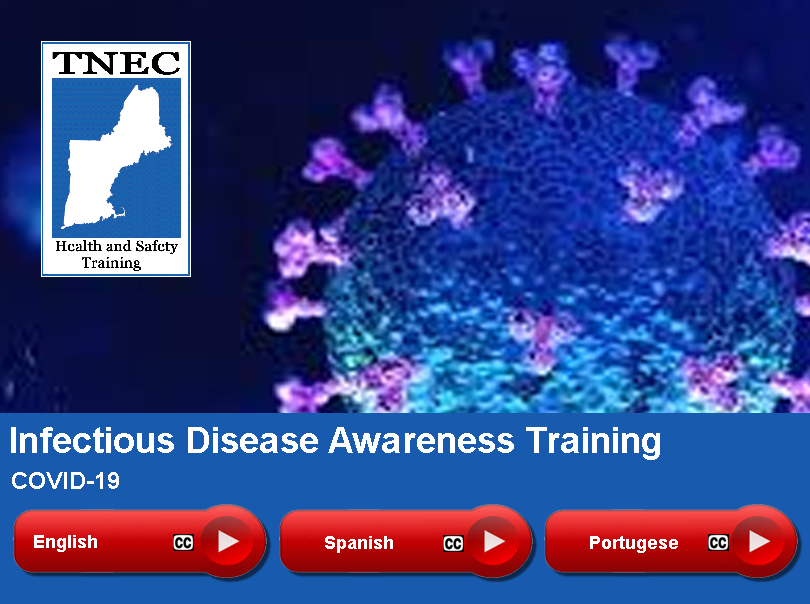 The goal of this training is to increase awareness for workers on the workplace practices to protect themselves from coronavirus (COVID-19) and the spread of other infectious diseases. After taking this course, you will be able to explain what COVID-19 and other infectious diseases are, identify their symptoms, summarize how they spread, and define key concepts like social distancing and hierarchy of controls. Through understanding this, you will be better prepared to prevent the spread of COVID-19 and other infectious diseases and to inform others on how to do the same.
ONLINE TRAINING - COVID (Español) Concientización sobre enfermedades infecciosas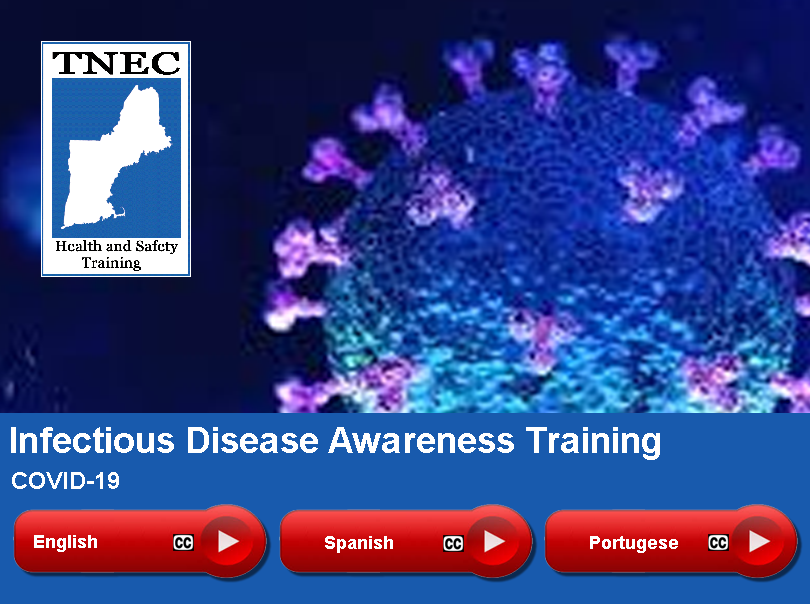 El objetivo de esta formación es concienciar a los trabajadores sobre las prácticas laborales para protegerse del coronavirus (COVID-19) y la propagación de otras enfermedades infecciosas. Después de tomar este curso, podrá explicar qué son COVID-19 y otras enfermedades infecciosas, identificar sus síntomas, resumir cómo se propagan y definir conceptos clave como el distanciamiento social y la jerarquía de controles. Al comprender esto, estará mejor preparado para prevenir la propagación del COVID-19 y otras enfermedades infecciosas y para informar a otros sobre cómo hacer lo mismo.
ONLINE TRAINING - COVID (Portugués Brasileño) Concienciación sobre enfermedades infecciosas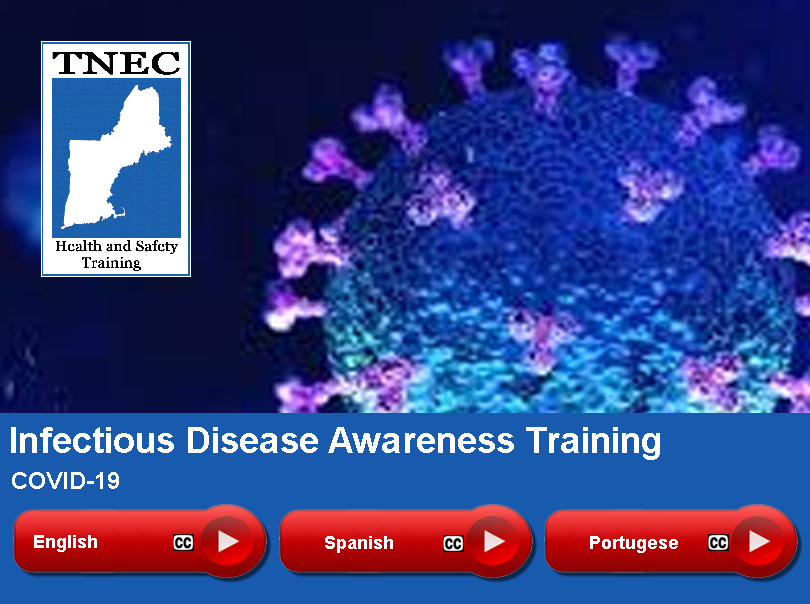 O objetivo deste treinamento é aumentar a conscientização dos funcionários sobre as práticas no trabalho para se protegerem do coronavírus (COVID-19) e da propagação de outras doenças infecciosas. Depois de fazer este curso, você será capaz de explicar o que são o COVID-19 e outras doenças infecciosas, identificar seus sintomas, resumir como elas se espalham e definir conceitos-chave como distanciamento social e hierarquia de controles. Com essa compreensão, você estará mais bem preparado para prevenir a propagação de COVID-19 e outras doenças infecciosas e para informar outras pessoas sobre como fazer o mesmo.